Bob Ross started experimenting with sugar-free chocolate making after he was diagnosed with Type 2 diabetes over 25 years ago.
An admitted chocoholic, Bob just couldn't stop eating chocolate after becoming diabetic. Determined to stay healthy without giving up his favourite daily treat, Bob decided to figure out how to make a luscious, sugar-free chocolate for his own enjoyment.
Making his own kitchen a chocolate-making lab, Bob spent years perfecting his recipe using the best diabetic-friendly sweetener he could find at the time: maltitol.
Locals started buying Ross Chocolates from a few local shops. As more people discovered Ross Chocolates sugar-free chocolate, Bob was soon getting requests for his superior, diabetic-safe chocolate from across Canada and around the world (diabetics are relentless at searching out substitutes for foods they love but can no longer safely eat).
Bob worked with a chocolate supplier to produce the Ross recipe in larger quantities than he was able to make in his own home. Bob would receive his special recipe no sugar chocolate from the distributor and melt, mold, temper, and package it for his customers.
In 2015, Ross Chocolates became too big for its small location in Scotch Creek, BC and the company was sold to new owners who found a larger facility near Vancouver, BC.
The new owners re-investigated options for diabetic-safe sweeteners and discovered that erythritol and stevia was scientifically proven to have an even lower impact of blood sugar levels than maltitol and they were both approved for use in foods. Ross immediately started experimenting with the new sweeteners.
As Ross Chocolates started using the new sweeteners, they experimented with making their chocolate in-house rather than through a supplier to return to the chocolate-making process and improve the quality and flavour.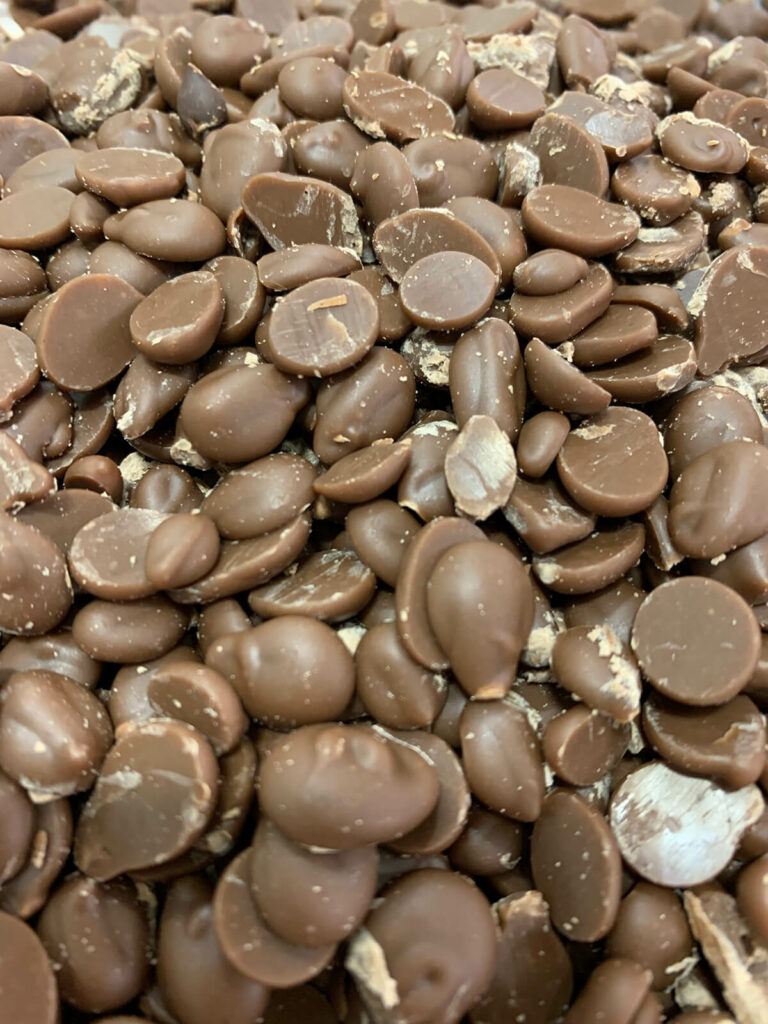 The Sugar-Free Chocolate-Making Process
Chocolate making is an extremely difficult, temperamental process that involves several chemical[1] and physical changes. Cocoa beans are not just picked and ground into chocolate (akin to peanut butter); there are many steps in the process:
Picking the beans
Fermenting
Drying the beans
Selecting the best beans
Roasting the selected beans and extracting the nibs
Refining the cocoa mass and cocoa butter
Conching (kneading) the chocolate
Tempering the chocolate
The steps that affect the flavour of the cocoa the most are:
Fermenting
Roasting
Refining
Conching
Many chocolate-bar and treat makers only melt and temper (cool and solidify) chocolate they have purchased from large chocolate distributors prior to packaging the chocolate under their own branding.
Tempering does not affect the flavour of chocolate; it affects the consistency. If tempering is done incorrectly, the cocoa butter added in the refining stage will eventually separate and rise to the surface of the chocolate to create a white coating. Many think the chocolate has gone bad. The separation does not mean the chocolate is bad, but it does make the chocolate less smooth and more crumbly, grainy, and chalky because some of the fat that gives chocolate its creaminess has separated.
Extra Effort Counts in No Sugar Chocolate Making
Rarely is a company involved in all the steps of chocolate making. Only the largest makers (Lindt, Nestle, Hershey, Ferrero, Mars Wrigley, etc.) and some small, boutique chocolatiers carry out all the steps of chocolate making from beginning to end. Most chocolate makers cannot afford to carry out all the processes themselves to produce the demand for their chocolates and rely on chocolate suppliers to provide cocoa mass, cocoa butter, or fully refined and conched chocolate.
Bob Ross worked with a chocolate supplier to develop his sugar-free recipe and the supplier made the chocolate for him to mold and temper himself.
Controlling Sugar-Free Chocolate Flavour and Texture
Ross Chocolates has changed that process and now does the refining and conching of the cocoa mass (liquid) and cocoa butter in addition to the tempering of our creations. By doing so, we have more control over the flavour and quality of our chocolate bars, minis, chips, and nuts.
For Ross, it is very important that we control our recipes and can quickly alter our processing to improve our flavours and quality. Doing our own refining (which includes breaking the coca mass down so it has a smooth, silky texture, adding the sweeteners and any flavours such as sea salt, lemon, coconut, quinoa, etc.) allows us to control the flavour and texture of our chocolate more closely and conching ourselves allows us to keep more flavonoids and minerals in our recipes, which is better for health. We also control the ratio of cocoa mass to cocoa butter, so our cocoa is fully combined and smooth. We then temper our chocolate precisely so there is no risk of separation.
Our Staff Is Committed to Making the Best Diabetic (and Keto) Chocolate
Our production and quality assurance (QA) staff are critical to our success. They are all very proud of the chocolate we sell and take extra care with each batch of chocolate they prepare. We do not run thousands of bars, minis, chips, or chocolate covered nuts at a time. Instead, we do small runs to ensure each item meets our British Retail Consortium (BRC) Certification standard.
Our staff knows how critical our unique recipes and in-house refining, conching, and tempering are to the taste and quality of our creations.
[1] Barisic, V., Kopjar, M., etal. August 30, 2019. The Chemistry Behind Chocolate Production. Molecules 17(31), 3163. https://pubmed.ncbi.nlm.nih.gov/31480281/