Although it's been around since the time of the Ancient Greeks (100 AD), diabetes is still a disease that many know little or nothing about. Even when I was diagnosed with Type 1 Diabetes in 1974 — at the time, it was called Juvenile Diabetes, Juvenile Onset Diabetes, and Insulin Dependent Diabetes Mellitus (IDDM) – those around me who knew something about diabetes were few.
It was a steep learning curve in the first few weeks, as it is for all those afflicted with diabetes and those who support them (family, friends, and co-workers). At the time, disposable syringes did not exist for home use, and I had to boil my glass syringe to sterilize it before my once-daily injection of insulin. Fortunately, disposable needles did exist then, so I didn't have to go through re-using home-sterilized needles that would become dull with use. There was also no home blood glucose testing – urine testing was the only way to monitor what one's blood sugars were doing and that was very inaccurate.
The diabetic diet was highly regulated and – although healthy – very difficult to follow. Youngsters with Type 1 diabetes were warned about becoming blind by the age 20 and dying young, while older adults diagnosed with Type 2 diabetes were warned about blindness and loss of limbs.
The advanced regimes of multiple daily injections with different types of insulin to cover basal metabolism (long-acting forms) and food intake or blood sugar spikes (short -acting forms) was not in use when I was first diagnosed, so my blood sugars tending to run high because, as a 10-year-old, I needed to eat to grow, learn, and play but I only took one injection of long-acting insulin each day.
The treatment of diabetes has come a very long way but still, the disease I was told at age 10 would be cured within 10 years, continues to baffle medical professionals and patients in many ways. What triggers the onset of T1D and T2D is still unclear. Despite all the advancements in dealing with diabetes, complications from diabetes continue to drive the disease to be the seventh leading cause of death in the US (2019) and make diabetics 30 times more likely to need an amputation than those without diabetes (2021); complications make diabetes the fifth leading cause of blindness.
Today, most people have heard the term diabetes – some have heard the terms Type 1 and Type 2 diabetes – but few know the differences between them. In addition to Type 1 and Type 2 diabetes, there is gestational diabetes, pre-diabetes (which may lead to T2D), and other cases of diabetes mellitus that present as T1D or T2D due to complications of other illnesses, injuries, infections, or surgeries (these are rarer than T1D). Finally, there is diabetes insipidus, which is very rare and actually a very different disease than any of the forms of diabetes mellitus, although they share the term diabetes.
The type of diabetes mellitus a patient has is determined by whether they produce insulin or not and, if they do, who their body does not use insulin properly. People diagnosed with pre-diabetes can progress to T2D but not T1D. Those with T2D cannot progress to T1D – they may take insulin to treat their T2D, but they are not T1D because they still produce insulin while those with T1D do not at all and never will again.
Those living with diabetes still face the prospect of complications and death daily and diabetic patients suffering extremely low and extremely high blood sugars are admitted to hospital emergency rooms daily.
This year, we celebrate the 100th Anniversary of the discover of insulin by Canadian doctors Banting and Best, which was as revolutionary to the life of diabetics as the Internet was to communication. Technology has improved the life of diabetes tremendously but there is still much work to be done.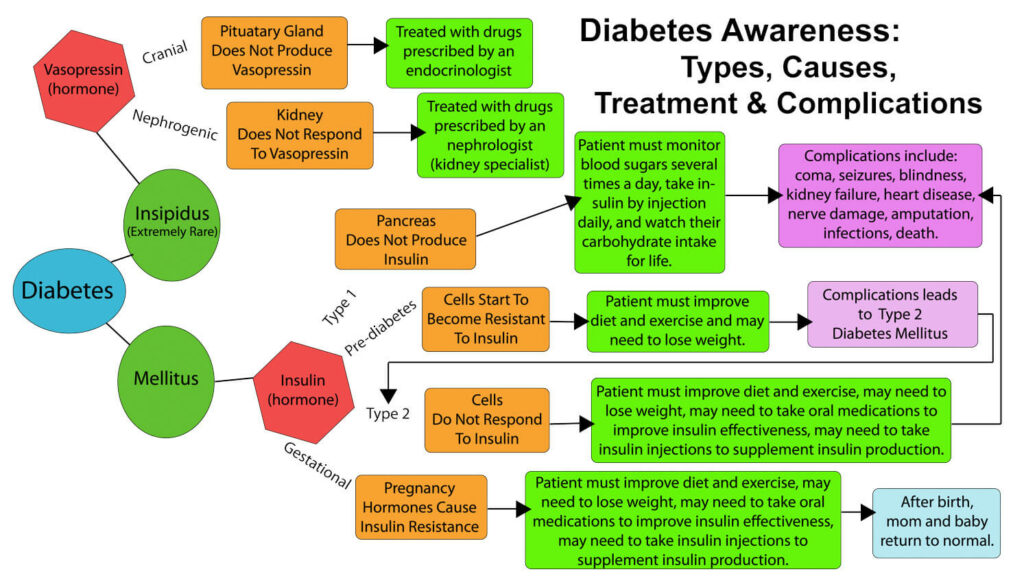 Ways to contribute to Diabetes Research:
Buy Ross Chocolates — a portion of each sale supports T1D and T2D Research.